Main Menu

Download the 30 day trial of Xara X now!

www.c64.sk for all the
latest scene news
FlipitZ (StudioX64 game feature)

- Click on the "Download" icon to jump directly to the download

FlipitZ is a game without a story, so that's about it really ;o) well maybe not exactly. FlipitZ is a Windows tile based puzzle game. It makes no claims on being the best, it makes no claims on looking the nicest, it is flippin hard though! I have tried to make this a nice, fun easy going game, instead I found myself shouting at my computer screen as I tried to complete my own levels! - Yep that's right I have made a game which I have only completed once (and I think that was a fluke!).

The game plays on a tiled grid 11 by 11 squares. You take control of the magic finger of doom, and change squares on the grid by clicking either the left or right mouse buttons. When you click on a square, not only does IT invert (eg, if it's green it becomes blue and visa versa) but so does the one above; the one below; the one to the left; and the one to the right. The idea of each level is to change all of the light coloured squares to dark ones. There is a total of 50 levels to play through, with a password rewarded for every 10 completed.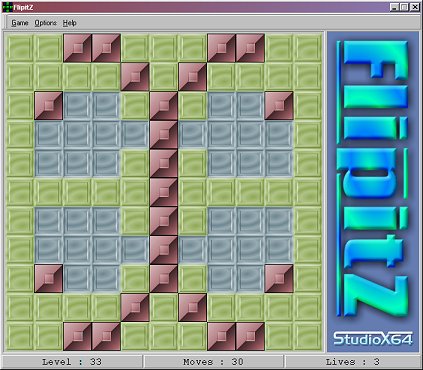 Example screen shot of later level



So what are you waiting for, just follow the links below and download the game. The game comprises of a single zip file which when extracted contains a single exe file (yes the game is totally self contained!).



---
Download:

-> FlipitZ.ZIP
Before downloading we would be very grateful if you would click on the advertising banner at the top of this page, it will open in a new window. Thank you.


Technical Specs:

Pentium 233mmx minimum required
16bit graphics card
Windows 9x / NT or higher
800x600 display minimum (1024x768 recommended)


Credits:

All programming, graphics and design by: Paul Kubiszyn
Game testing by: Victoria Kubiszyn / Paul Kubiszyn
Copyright StudioX64 Software 2002