Main Menu

Download the 30 day trial of Xara X now!

www.c64.sk for all the
latest scene news



C64 Sprite / Charset Ripper (latest release: version 1.05)


DOWNLOAD LATEST VERSION (1.05) -> [C64ripr.zip] (325K) - Updated 30th December 2001
If you are not going to donate, then please at least click on the advertising banner above!


Firstly folks, I appologise for bringing up the dirty word contribution, but I feel this version of the C64 Sprite / Charset Ripper fully deserves it. If you are using the ripper on more than an occasional basis (especially if you are using it in a commercial environment), I would really appreciate any voluntary money contributions. You can click on my PayPal logo above and it will take you to the payment screen. From here you may or may not need to create an account (depending on where you live). You are then prompted to enter an amount to donate, I do not mind what value you place in this field (10p if you want). Sorry but all donations are in $dollars for the time being (PayPal are hoping to change this soon). Any contributions made, will of course help me to update this software more frequently, and aid in the creation of many more new and exciting products.

Additional to what you are about to read from Version 1.02 onwards the ripper now rips Charsets as well as sprites :) See screen shot further down this page.

OK folks, here it is! - The utility every retro games programmer has been asking for, yes finally.... It's the C64 Sprite Ripper utility!!! If you have come here looking for the latest version download then click HERE! If you have no idea what this program is or does then read on. Based on an original idea by George Bray, and programed by myself (Paul Kubiszyn). The C64 Sprite Ripper is going to help pave the way forward for many C64 to PC converted games. Up until this evening it has always been difficult to extract full animations etc from C64 emulated games into PC format graphics (previously you had to grab multiple screen dumps in some hope you would get all the frames required), now however you have the power to do this instantly. All you need to hack the sprites from your favourite C64 title is a copy of CCS64 (from HERE!), a copy of the game (and obviously to own the original otherwise it would be illegal), and the C64 Sprite Ripper utility. If you still need more convincing, then read the following comments from just a hand full of the many nice emails I have been receiving.




An absolutely fanfookintastic util paul. great work.
(Rob Brammeld - http://www.brammeld.co.uk)



Hi Paul, your program looks quite interesting, and definitely useful for lots of various things.
(Forrest - http://almighty.c64.org/)



I must say this program is brilliant and will be very useful for my Wizball Shrine page
(Marticus - http://www.smug.adelaide.edu.au/~byteme/wiz/)



Damn, that's just what I've been looking for.
(Kim Lemon - http://www.emucamp.com)



Well what can I say - the sprite ripper is AWESOME :)))
(George Bray - http://users.breathemail.net/georgebray)



It's lush, I will be having a play later... :))
(Mike "Navvie" O'Hara - http://www.keepitretro.com/)



So how exactly does this utility work I hear you ask?? - Well I shall try and explain.....

First of all you boot up CCS64 and load your favourite game (in my case the wonderful game Creatures by Apex).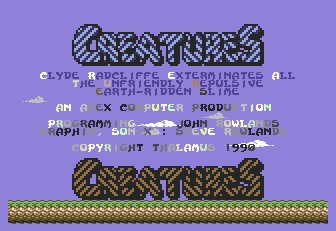 Whilst the game is in full spring, you hit the "F9" key and go to "State...", then "Save State.." and give it a filename (remember this!). Now quit from CCS64 as you are done with this fine utility, and load up the C64 Sprite Ripper utility.

Choose "File -> Open CCS64 freeze file", and find the save state freeze file which you saved from CCS64 a moment ago, and click on OK. If you have done this all correctly you should now be seeing some sprites, or junk for the moment as the memory address's will not be correctly positioned. The next thing you must do is scan through the complete 64K and find the games sprites. To do this click on the ">" button to scan through one sprite at a time. When you find some graphics you should see something like this: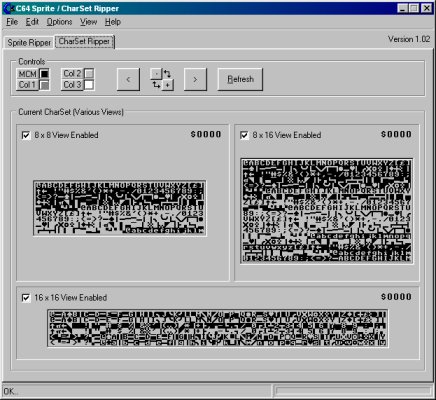 As you can see from the screen above I have found the graphics which I was looking for, you will also notice that they are being displayed in multicoloured mode (you must click on the button marked "MCM" to turn this mode on - by default it is off which means your sprites will display in single coloured mode only). You can change the colours of the sprites by clicking on the buttons marked "Col1", "Col2", and "Col3" respectively, along with with a few other options which you may find useful (see help file included in application for full details). Once you are happy with your sprites you can save either individual sprites or 7 in one go, you may also just copy them to the clipboard if you wish. The great thing about the graphics are that they are saved in Windows Bitmap format (or BMP) which means you can load them directly into your favourite paint package (in this case mines Paint Shop Pro). This also means it is really easy to load them into animation programs and make animated gifs within seconds.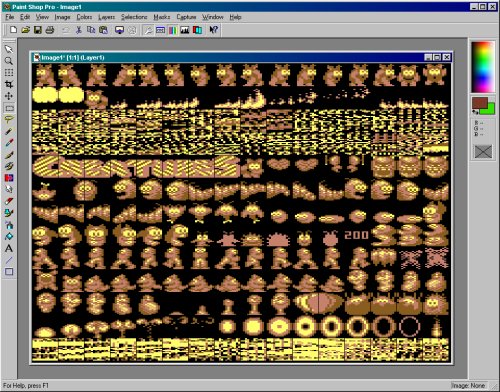 Well I think that about covers everything, please read the help file included (especially if you find the sprites all looked screwed up when you load in the freeze file), as obviously if CCS64's freeze file format changes then you will need to play around with the byte offset controls. If you have any suggestions for improvements / bug reports or just general comments then please address them to me (Paul Kubiszyn). In the mean time enjoy this cool utility and all I ask in return is that you make sure everybody you know, knows about it!